Never give up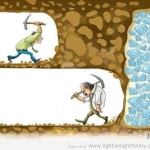 Hi eveybody,
I would like to deal with a special topic, one of the keys which entitles you to succeed in life no matter how big and difficult your dream is.
Never give up! if you quit now you will never know how close you were to achieve your dreams
What does it stand for?
It means whatever you do want to acquire, reach, accomplish, you MUST NOT STOP doing what you are doing. In other words you must work on your goal CONSISTENTLY. In doing so you are bound to achieve your goal one day.
People who succeed in life have failed many times, but by doing the same thing consistently one day they end up succeeding.
« It doesn't make a difference how many times you fail all you have to do is be right once »
You can apply that in sport, business, studies, whatever you like, all you need is to believe in yourself. If you have a deep desire, a deep will to reach something then nobody can stop you, even if you have failed several times.
When you fail it means that you are on the verge of achieving your aim, you are on the right track, you are henceforth better off and closer to your goal than you were just before.

Thomas A. Edison "failed" ten thousand times before he perfected the incandescent electric light bulb.
You have to accept « temporary defeat » prior to reaching your goal, it is an indication that really does show you that you have to change your plan, you have to change something, your organisation, your way of doing but NOT your goal NOT your objective.
Henry Ford met with "temporary defeat" in his career, so what did he do? He changed his plans, he turned defeat into victory through new plans.
THUS DO WHAT THEY DID AND YOU HAVE WHAT THEY HAVE
Never quit the goal, quit the plan, change the plan but do not change the goal.
QUITTING IS NOT AN OPTION
Every person who is successful in life has at least on thing in common he or she has been doing over and over and over again the same things consistently towards their goal. You may change your plan, your way of doing if you run into failure but NEVER GIVE UP on your dream.
REPETITION IS THE MOTHER OF SKILL
Think about it! In every realm of your life what you master the most is what you have done repetitively, the learning technique is called spaced repetition.
Repetition has helped you learn your own language, learn any sport any activity any occupation anything without exception. In order to improve and achieve any objective, we have to repeat the same pattern continually (spaced repetition), that is one of the keys of success.
DO THE RIGHT THINGS LONG ENOUGH CONSISTENTLY, AND YOU SEE THE RESULTS
The bottom line is, if you give up before your goal has been reached you are a « quitter ».
« A QUITTER NEVER WINS -AND- A WINNER NEVER QUITS »
Napoleon Hill
So henceforth you know the recipe, NEVER GIVE UP
See you soon
Take care
F&F Consulting
Communication Marketing Consulting